CASE STUDY
CALMING VIOLENCE IN
COLOMBIA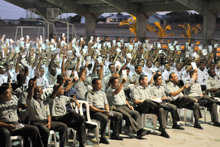 For decades, Colombia has suffered continual social conflict and violence—guerrilla warfare, civil strife, warring drug cartels and cocaine wars with hundreds if not thousands of kidnappings and murders.
In 2004, the United Nations described the Colombian conflicts as "the worst humanitarian crisis in the Western Hemisphere."
A well-known Colombian actor and comedian decided to take effective action to halt his country's decline, using The Way to Happiness to intervene in this national crisis. He created a unique showcase for the 21 precepts that he has now performed to 150,000 civilians and military personnel. For his achievement, the Minister of Defense designated the performer a "Soldier of Happiness."
MORE THAN
50
PERCENT
—drop—
in crime rate
IN COLOMBIA

A colonel in the Colombian National Police learned of The Way to Happiness when the booklet was introduced into Cartagena, a port whose prosperity depended on tourism. This vital income source was severely threatened by escalating crime, with armed robberies doubling yearly. After training on the use of The Way to Happiness, the colonel and his officers began distribution of the booklet in Plaza Santo Domingo, the hub of Cartagena nightlife. They also distributed the booklet in the suburb of Terranova and to bullfight fans at Plaza de Toros. Intensive distribution was carried out in schools, with seminars to thousands of students. In all, tens of thousands of Cartegena citizens came to know the 21 precepts. The result was a 27 percent drop in crime, and Cartagena declared the safest city in Colombia.
The colonel subsequently launched a national program, training police in the Bogotá districts of Engativá and Salitre who, in turn, distributed the booklet to concert crowds and university students, at open-air markets in the city of Santa Marta and in the colonial settlement of Villa de Leyva. Ultimately, ten thousand police officers handed out the booklet in 21 cities.
When Colombia hosted athletes from 24 nations for the Junior Soccer World Cup, the police force likewise handed out 300,000 booklets in 10 days. Colombia's World Cup finished without a single report of violence.
In all, Colombian police have delivered Way to Happiness seminars to 3 million citizens and booklets to 20 percent of the population. Crime rates have dropped by 50 percent and Colombian tourism has increased to a level beyond any other Latin American nation. According to senior Colombian police officials, much of the credit for this change goes to The Way to Happiness.